Not The End Party
Sunday, June 23, 8 p.m. - 12 a.m.
DJs: Eduardo Rosario. Kyle Werle aka. Psychic Hone, and more!

LITHIUM is permanently moving out from its current Pilsen location and going into a hiatus. The past two years have been so magical with all the love and support from the Chicago arts community. We also have been lucky to call Pilsen home, to be part of the 2nd Friday gallery walk, and to be neighbor to so many other wonderful artist-run spaces. And most importantly, we would like to thank all the artists and curators who have shown their work here. You trusted us with a leap of faith, understood our next-to-nothing budget, and were willing to work around all the limitations to realize your projects in most creative ways. Even though the gallery space has come to an end, it is Not The End of LITHIUM's mission to support time-based art. Please be on the lookout for our next phase of shape-shifting!
June 2019
Raising Girls
Friday, June 7 2019, 8 p.m.
Cassandra Davis in collaboration with Katinka Kleijn
LITHIUM is pleased to announce Raising Girls, a video installation and time-based sculptural sound-performance by artist Cassandra Davis and cellist Katinka Kleijn. Davis and Kleijn will attempt to divine the inherent sounds from within textiles, bodies, and exhaustive tension. A phenomenological expedition fully heard but only seen with the light from Davis' video Raising Girls, the artists will premiere this 30-minute work composed specially for LITHIUM Gallery.
Raising Girls parses out gender, sexuality and patriarchy within Evangelical America. It explores the gendering of girls, James Dobson's pardon of serial killer and rapist Ted Bundy, reclamation of sacred feminine spaces, play, innocence, and the queer gaze. Frames of the video move between what feels like archival images, to crime scene photos, to glimpses of intimate bodies. Flashbacks form an afterimage that burns a memory that is mesmerizingly difficult to reconstruct. Through sound and image, Davis and Kleijn propose new ways of accessing embodied trauma.
Special thanks to artists María Luisa Conlon, Polly Jane, Ona Siân, and Chloe Cucinotta for their collaboration in Raising Girls.
Cassandra Davis is a Chicago-based artist with an MFA in Fiber and Material Studies from the School of the Art Institute of Chicago. Their solo shows include No Body on Earth But Yours in conjunction with the Chicago Underground Film Festival, and Of Roses and Jessamine at SUGS gallery in Chicago, with an upcoming solo show at G-CADD in St. Louis. Davis has shown in group exhibitions and screenings at York St. John University, UK, Tile Blush in Miami, FL, The Art Institute of Chicago, Museum of Contemporary Art, The American Medium in NYC, Terrain Biennial, Chicago Home Theater Festival, Mana Contemporary, Sullivan Galleries, and the Silent Funny in Chicago, IL. They have been awarded the Oxbow Summer Artist's MFA Residency, Roger Brown Artist's Residency, and the IOTO Summer Residency, Shapiro Center Eager Research Grant, the World Less Traveled Grant, Dean's Merit Scholarship, and has been lecturing faculty in Fiber and Material Studies at SAIC. Davis is currently an artist in residence at the Chicago Artist's Coalition as part of the HATCH program.
Cellist Katinka Kleijn enjoys a genre-defying career in solo, improvisation, chamber music and orchestral performance. As soloist she appeared with the Chicago Symphony Orchestra, The Hague Philharmonic, and at the Tokyo Metropolitan Theater. She premiered Dai Fujikura's Cello Concerto at Lincoln Center, with the International Contemporary Ensemble (ICE), which was released live on Minabel/SONY Japan Records. Known for her innovative individual projects, she appeared in recital at the Library of Congress, Carolina Performing Arts, and the Chicago Humanities Festival. A collaboration with the performance art duo Industry of the Ordinary resulted in "Intelligence in the Human-Machine", a duo for cellist and brainwaves. This year, the City of Chicago presented "Water on the Bridge", for 30 cellos, 2 cellists and swimming pool at the 2000 square foot Eckhart Park Natatorium, created in collaboration with Lia Kohl.
Additional projects include a VR/3D video of Bryan Jacobs' "ly ful hood" for cello and robot instruments, commissioning Marcos Balter for a Bach Suite companion piece, performing in duo with Du Yun, with Tortoise at Pitchfork Midwinter, and receiving a commission for the free improv Instigation Festival Orchestra in Chicago. A member of the Chicago Symphony Orchestra and the International Contemporary Ensemble, she has a working duo with guitarist Bill MacKay.
Original poster by Jany Zhang!
June 2019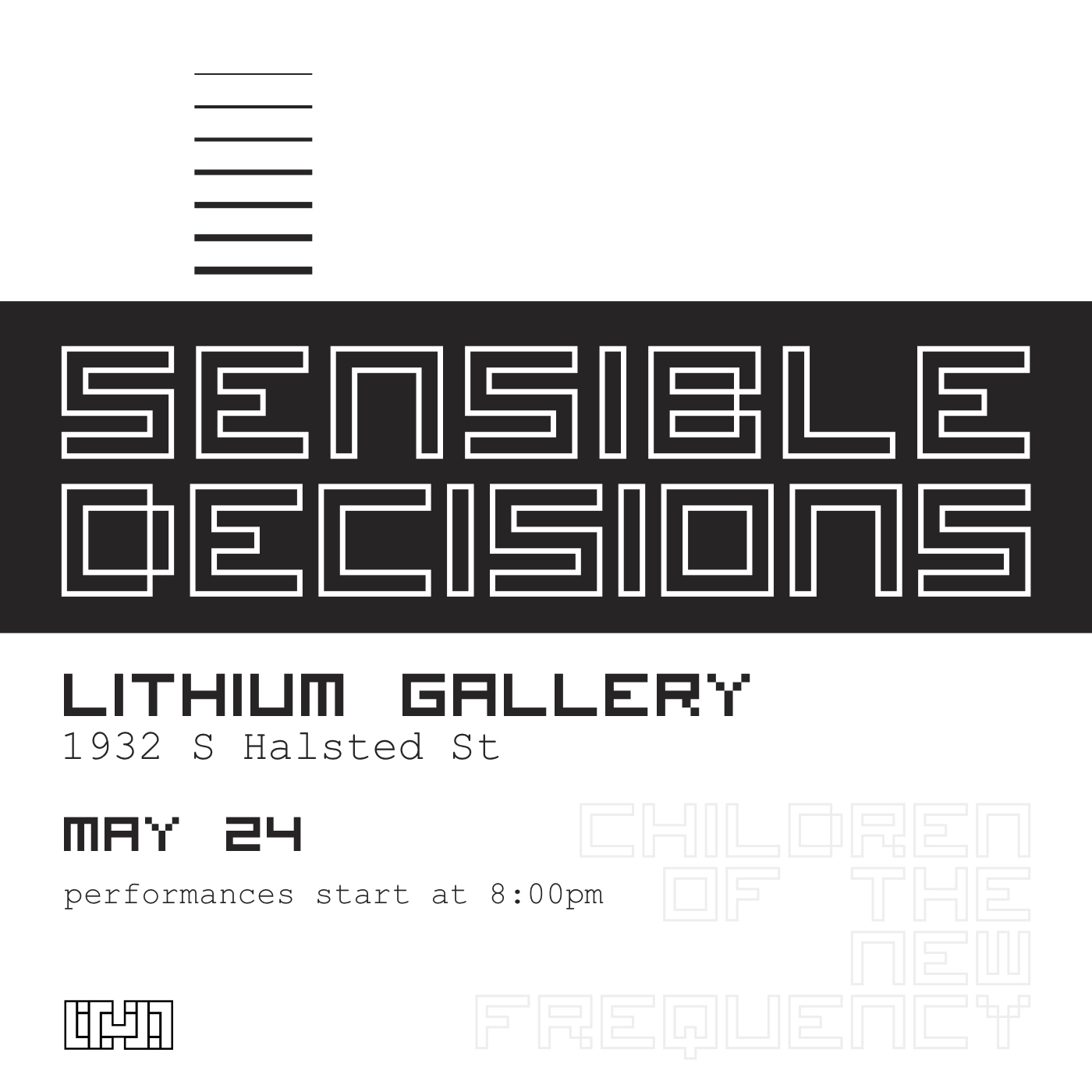 Sensible Decisions




May 24 – 26, 2019
Pop-Up Reception: Friday, May 24, 7:00 – 11:00 p.m.


It is change, continuing change, inevitable change, that is the dominant factor in society today. No sensible decision can be made any longer without taking into account not only the world as it is, but the world as it will be.

-- Isaac Asimov


Sensible Decisions takes off from science fiction, soars in the imagination about living in a cyborgian future world, and lands at critically addressing some of the darker aspects of technology of the present. Featuring works by Jenna Boyles, Ziv Ze'ev Cohen, Bryan Sperry, and Kyle Werle, this exhibition will be presented as an interwoven installation that expresses human's relationship to technology fraught with not only awe and joy but also mistrust and fear. Forging everyday objects, trash, and detritus into humanoid sculptures, the installation speculates a future human species rid of the burden of the flesh while confronting the material reality that upholds any whimsical imagination about technology.

Additionally, the four artists will introduce performative elements to the show, employing light, motion, and sound to maneuver our tactile, aural, and optical senses. Where does the boundary of the body begin and where does the machine end? How will human senses function as a bodiless subject? Can there be a New Flesh? In this exhibition, the artists will provide their sensible decisions.

This exhibition is collectively curated by the participating artists in collaboration with LITHIUM.



Jenna Boyles Contemporary humanity is characterized by continuously leaving behind material and informational traces. Jenna Boyles works with textiles, circuitry, and found objects, applying craft techniques and a DIY approach to the subject of waste as it pertains to current political and environmental issues. Boyles holds a BFA in painting from the Maryland Institute College of Art and an MFA in Art and Technology Studies from the School of the Art Institute of Chicago. Over the past five years, she has led numerous workshops on creative reuse and soft circuitry. Boyles is a lecturer at the School of the Art Institute of Chicago and adjunct assistant faculty at University of Illinois at Chicago.

Ziv Ze'ev Cohen is a visual artist with an emphasis on technology. His work functions as experiential platforms through which technology mediates an experience in relation to the human body. He highlights the power struggle between humans and machines, as well as people's mistrust and misunderstanding of technology. Often these dynamics produces a sense of wonder, fear, even transcendence. Through his work, he challenges the senses of both human and machine alike, often speculating the future, to reflect on the impact machines have on our society today. Cohen's work has been exhibited worldwide, recently at Ars Electronica festival in Austria and at the Museum of China Academy of Art at Hangzhou, China.

Bryan Sperry has been a force in the Chicago-area art scene for two decades now. He plays a vital role in the formation and operation of many local galleries and art events including the Around The Coyote Arts Festival and The Pilsen Art Walk. He is a founding member of The Art Attack Gallery, Second Fridays in Pilsen, and his own Sperry Studios. Sperry began his painting career as a young man growing up in the blue-collar "Pilsen" neighborhood of Chicago's near south side. By experimenting with different media and drawing on the wealth of previously established genres as he matured, Bryan's work and perspective began to become a fluent language for him. His art hence has become the vehicle of his overall philosophy.

Kyle Werle aka. Psychic Honey is a Chicago based musician, artist, instrument builder, and indie game maker. They use self-created emergent artificial intelligence systems to forge sculptural sounds and rhythms. Their label voidpulse was started in the year 2015 to advocate experimental sound works. Their music is based heavily on improvisation, organic composition, and textural sound fields. It is an exploration of alien consciousness envisioning new forms of perception. It is a voyage into fiercely independent creation through intuition and expanding understanding of our existence.


Original poster designed by Kyle Werle!



May 2019
Touch Me Everywhere Softer



May 3 - 17, 2019
Opening reception: May 3, 6 - 9 p.m.
Final opening reception: May 17, 6 - 9 p.m.

LITHIUM is pleased to announce Touch Me Everywhere Softer, an unstable exhibition by Jessica Tucker that will transform over the course of two weeks.


I meet with projections, I do not make them.
They change the world into replicas and relics.
Accumulated copies, automatic debris.
Simulations of an unknowable face,
tempting traces to an unstable origin.

"In my work, I want to host heightened experiences of a kind of weird intimacy that is at once disturbing and deeply comforting. This weird intimacy is suspended in a space between the real and the simulated, both full of possibilities for bliss and for terror. I work with video, performance, interactive sculpture, and music to stage the strange, elusive endeavors of self-awareness and self-production. Immersive, seductive, saturated, and often disorienting, my videos and performances reconfigure tropes of the social Internet and commercial media industry to question the nature of intimacy, fantasy, anxiety, and nostalgia. Identity seems to fluctuate, desire and disturbance mingle, and the artifice of technology is both omnipresent and always just out of reach." -- Jessica Tucker


Jessica Tucker is a new media artist and musician currently based in Chicago.


Original poster designed by the artist!



May 2019
Aspartame, Citral & Rayon, installation view, 2019. Image courtesy of Andi Zang.
Phil Mulliken, Untitled (Trash) (2019), installation view. Image courtesy of Andi Zang.
Fran. E Gallagher, Untitled (2019), installation view. Image courtesy of Andi Zang.
Aspartame, Citral & Rayon
April 12—27, 2019
Opening Reception: Friday, April 12, 5:30—9:30 p.m.
Aspartame: A very sweet substance used an artificial sweetener, chiefly in low-calorie products


Citral: A fragrant liquid occurring in citrus or lemongrass oils and used in flavorings and perfumes


Rayon: A textile fiber or silky fabric made from regenerated cellulose (viscose)

Aspartame, Citral & Rayon is an interwoven audiovisual installation featuring works by multi-disciplinary artists
Fran. E Gallagher
,
Phil Mulliken
, and
李克非Coffe Lee
. It is an exhibition that explores what wave-based mediums such as light and sound sometimes fail to provide us through the form of representation. Let us now turn our attention to our other senses, namely the gustative, the olfactory, and the tactile, and ponder on the possibility of using substitution as a method instead of representation to rethink our visual and auditory experiences. How do our artificial processes of extraction, synthesis, and addition create end products that are thin layers of fiction that become another kind of reality?
This is a show about things that are distorted just enough to maintain veneers of their previous lives while directing our attention to something else – a mirage, a déjà vu, a misplaced piece of memory, a strange familiarity, a thought that will come to mind in a second, or a presence that can only be understood as "something different."
A Materialist checklist of the show (in no particular order):
Laminated wood, tempered glass, cotton, enamel, oak, electricity, rubber, steel, copper, paper, acrylic fibers, pigments, resin, vinyl, adhesive, quartz, sand, sand, and more sand...
A checklist for the senses (in no particular order):
Lemon, sunshine, comfort, diet coke, natural, fart, ticking clock, balcony, effervescent tablets, straw, buttons, key hole, bustling crowd, anger, discomfort, door knob, poetry, aliens, bell rings...
A Human checklist of the show (in alphabetical order by last name):
Fran. E Gallagher
is a creator of devised theater, and a collaborator with performing objects. Our focus is on the evolution and narrative of the living object; technology, mechanical machine, plant, creature, and furniture. These objects possess an inner life of their own; they express it by transforming in front of the viewer. Fran, and their collaborators, desire to expose the performative aspects of life as it continues to unfold.
Phil Mulliken
is a writer, new media artist, and perpetual student of literature. Mulliken works with high definition CGI simulations which pit the spectacular nature of computer graphics against the brute banality of mundane objects. The result is a kind of computer-generated poetics, work which turns the high-gloss world of simulated spectacle back on itself—a procedural disaster in your living room, a synthetic tragedy just over the fence. Mulliken lives and works in Chicago, IL, and will receive an MFA in writing from the School of Art Institute of Chicago in spring of 2019.
李克非Coffe Lee
is a Chinese indie musician and graphic designer based in Shanghai. He has released several digital albums and EPs including Hamilton House (福州大楼), from which the original sound scores for this show are sourced.
April 2019
READINGS
Friday, March 8, 6:00 p.m.
LITHIUM is pleased to announce
READINGS
, an evening of short readings by writers and artists and writers who are artists and artists who are writers of powerful, weird, tight, open, sideways, direct, invested, critical, playful, critical, and/or erotic writing. Each reading is 15 minutes or less. Snacks and beverages also provided. Please come and enjoy! Those reading,
in order:
ZACHARY CAHILL
is an artist based in Chicago and author of the novel The Black Flame of Paradise recently put out by Mousse Publishing.
ROMI CRAWFORD
is a professor at the of the School of the Art Institute of Chicago whose research and writing explore areas of race and ethnicity as they relate to American visual culture (including art, film, and photography).
JOSHUA DEMAREE
is a writer living and working in Philadelphia, where he is co-director of Blue Stoop, a hub for literary culture.
MAUD LAVIN
is passionate, and passionate about writing.
TRICIA PARK
is a Juilliard-trained concert violinist and fiddler who has appeared in concert on five continents and is currently an MFA candidate in the Writing Program at the School of the Art Institute of Chicago.
DERRICK WOODS-MORROW
(lives and works in Chicago) is a multidisciplinary artist exploring race, ethnicity and sexuality: working in photography, film, sculpture, installation and performance, as his body, words & spirit investigate culturally appropriated land ownership & placemaking for polyamorous, sexually forward, queer bodies like, and unlike, his own.
This event is co-sponsored by the Department of Visual and Critical Studies at SAIC.
February 2019
Fractured: Digital Topographies
Fractured: Digital Topographies
February 9 - March 2, 2019
Opening reception: Friday, February 8 from 6-9 pm
Artist talk and workshop with Doug Rosman: Saturday, February 23 at 3 pm
Performance by Katie Wood: Saturday, March 2 at 3 pm, closing reception to follow
A topographical survey traditionally accounts for the natural and artificial features of an environmental landscape. The information gathered allows scientists the ability to assess the space for navigation and planned interventions to the area. This one-dimensional reading of a natural landscape does not account for the complex systems in which these interventions can affect socioeconomics, intrapersonal spaces and power dynamics. In
Fractured: Digital Topographies
, four artists examine these dimensions as spaces where forces of globalization, technology and social conventions engineer an evolving and unfamiliar land.
Daniel Salamanca Núñez
(MFA 2019) positions six unique video works in a single sculptural object, each of which interrogates ways of understanding human cognitive processes. The constructed terrain of the sculpture allows for new interactions and meanings to emerge.
Doug Rosman
's (MFA 2019) practice tests the limits of self-exploration and excavation mediated by digital technologies, using his own body to be read and mapped by machine algorithm.
Katie Wood
(MFA 2019) examines the ways that an individual's sense of belonging consciously adapts to spaces as they change. Wood's multimedia installation uses cinematic and sonic documentation to reflect on the dynamic landscapes of Chicago and rural Virginia. With the use of interactive software,
Jiaqi Zhan
(MFA 2019) places the participant in a city where each action reveals the complex system of social hierarchy. The consequences of a society that surveils and quantifies the moral character of its inhabitants unfolds through decisions made by the player.
Fractured: Digital Topographies
is curated by Emily Carranza, Nicolay Duque-Robayo, Rebeccs Haley, Lasondra Kern, and Victoria Peña, all students in the Masters of Arts Administration & Policy department at the School of the Art Institute of Chicago. Featuring graduate students of the School of the Art Institute of Chicago: Daniel Salamanca Núñez MFA student in the Painting and Drawing Department, Doug Rosman MFA student in the Art and Technologies Studies Department, Katie Wood MFA student in the Sound Department, and Jiaqi Zhang MFA student in the Art and Technologies Studies Department. Fractured: Digital Topographies was made possible with the support of the Shapiro Center for Research and Collaboration at the School of the Art Institute of Chicago.
February 2019
Like Waves Against the Sand
An audiovisual performance by Shi Wenhua
Saturday, January 26, 2019
5—7 p.m.
Happy New Year! To kick off LITHIUM's programming for 2019, we are very pleased to announce our January event, Like Waves Against the Sand, a night of audiovisual performance and selected experimental film video projects by artist Chinese Shi Wenhua. This event is in conjunction with Time Within, the artist's solo exhibition currently on view at Walford Art Gallery of Wheaton College from Jan. 17th to February 16th. Time Within features Shi's most recent work, including a 4-channel film/video installation Sense(s) of Time, a two-channel video installation Water Walk, a projection piece Wave Line, and a 360 video VR piece Wish You Were Here.
Shi Wenhua
pursues a poetic approach to moving image making, and investigates conceptual depth in film, video, interactive installations and sound sculptures. His work has been presented at museums, galleries, and film festivals, including International Film Festival Rotterdam, European Media Art Festival, Athens Film and Video Festival, Ann Arbor Film Festival, Pacific Film Archive, West Bund 2013: a Biennale of Architecture and Contemporary art, Shanghai, Shenzhen & Hong Kong Bi-City Biennale of Urbanism, and the Arsenale of Venice in Italy. He has received awards including the New York Foundation for the Arts, the New York State Council on the Arts, and Juror's Awards from the Black Maria Film and Video Festival.
January 2019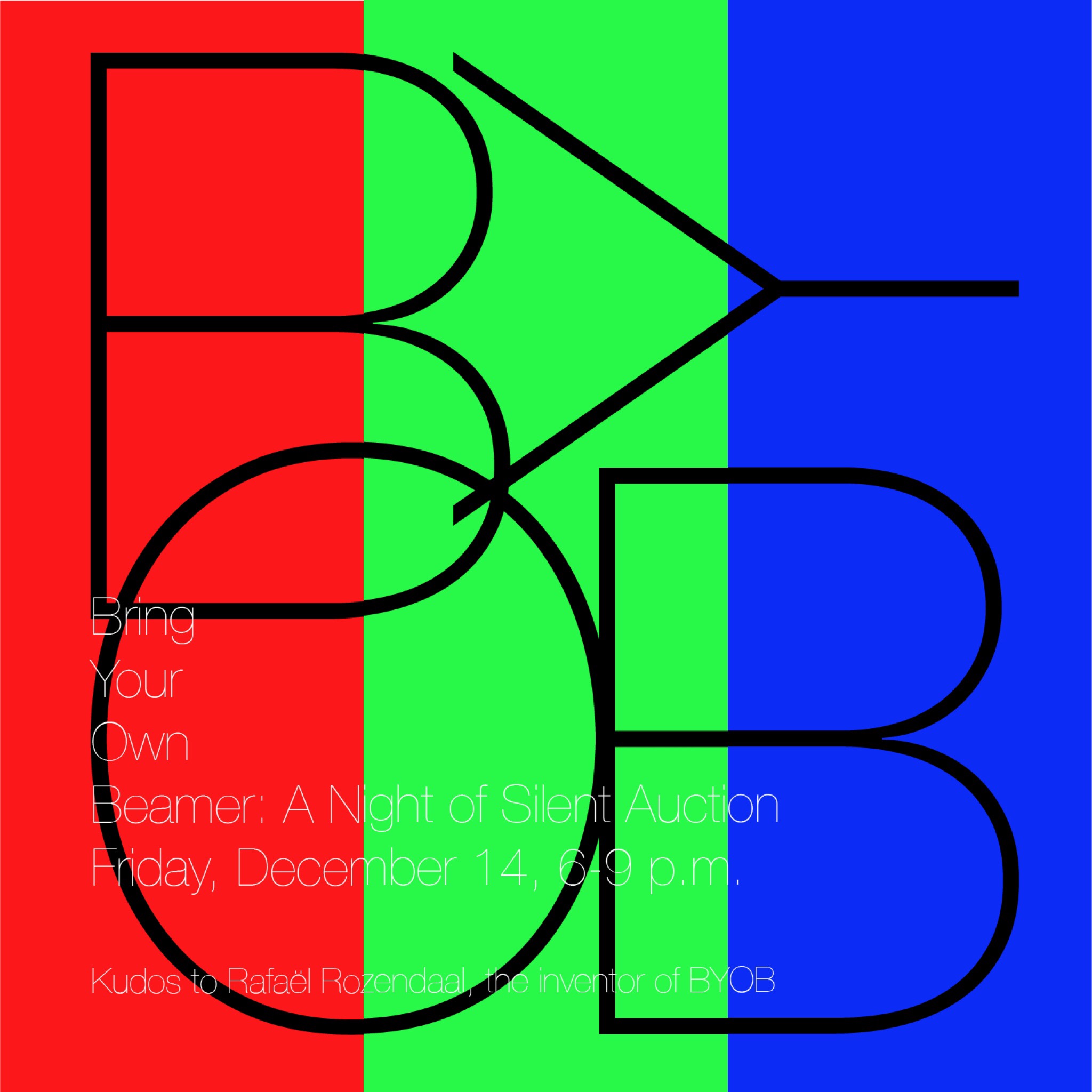 Bring Your Own Beamer
Friday, December 14th, 6-9 p.m.
LITHIUM is proud to announce its upcoming program,
Bring Your Own Beamer
: A Night of Silent Auction, that will take place on Friday, December 14th, 6-9 p.m. This public event will be another iteration of
BYOB
--a form of projection-based exhibition brilliantly invented by artist Rafaël Rozendaal--adapted into both a holiday celebration and a silent auction. This one-night curated auction aims to support local artists working in time-based art; it is non-commercial and all profits will go to the artists.
We are now seeking submissions for this BYOB event
. Chicago artists working in all forms of time-based art are welcome to submit
ONE projection-based work
that they wish to feature at the auction. To make both the selection process easy as well as to protect everyone's artistic property, a video preview link is adequate (or still image if it's for a slide or overhead projector). Please do not send video files. As the title "BYOB" suggests, you will need to physically be in Chicago on the day of and bring your own projector to the gallery for participation.
To make this event less cacophonous, we are imposing a
NO SPEAKERS
rule on all selected pieces. We suggest that you submit a silent piece. If, however, sound is important, bring your own headphone as well ;-)
Please send your submission to info@lithium.gallery by
Sunday, December 2nd, 11:59 p.m.
Selected entries will be notified shortly after with further instructions. Feel free to pass this call on to your colleagues, friends, enemies, frenemies...Any questions or concerns can be directed to the same email address.
December 2018